The last wedding my husband and I went to was a beach themed wedding in North Carolina. It was so beautiful and "beachy" from the invitations, to the location, to the decor! The invitations really stood out to me. Invitations are so important because they give your guests there first impression or first taste of what your wedding is going to be like. It can really intrigue them and get them excited about your wedding! Today, I wanted to share some beautiful beach themed invitations that are truly creative. They can be really classy or whimsical. From message in a bottle to starfish in a box... yes starfish in a box! Check it out... love these!
From: onewed.com
This is a beautiful and classy ocean themed invitation, still in traditional wedding style with the different RSVP cards, directions and accommodations. The seahorse is a real focal part with its embellishment.


This invitation is intricately detailed with various bands of multiple seashells and a large seashell. The gauzy wrapping around the invitation lends to the beach feel. Simply beautiful.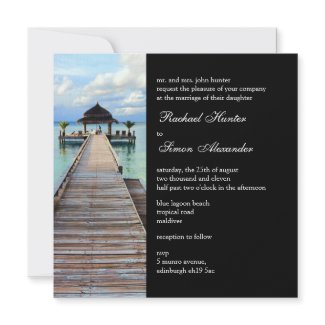 Serenade Jetty Maldives Beach Wedding -black Personalised Invitation
by
claire_shearer
Design your own invites
using zazzle
This invitation is a classy tropical beach theme with the beautiful pier stretching out to clear beautiful water. Perfect for a destination wedding.
I LOVE starfish. They have to be my favorite sea creature... they are just so beautiful. This invitation comes in a box so the starfish stays intact. I think invitations that come in boxes really make your guest feel special, but they take a little extra planning to mail.
PixDezines Seashells/Beach Invitations/DIY
by
custom_stationery
You can
sell cards
, invitations, stamps and more on Zazzle.com!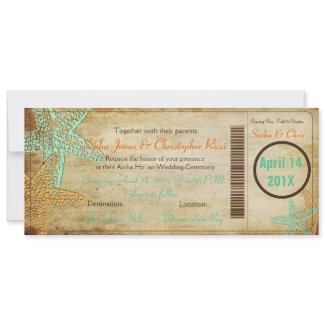 PixDezines Boarding Pass+Beach Wedding Invitations
by
custom_stationery
More
Pixdezines Invitations
I absolutely love this Wedding invitation that looks like a ticket! This could be used as a save the date of an invitation. I love the message in a bottle, treasure map on a deserted island feel of the paper. And.. of course the starfish. You could do so much with this design!
My love of starfish continues, but this invitation features many shells. It looks like you put the beach in a box and delivered it right to your guests! LOVE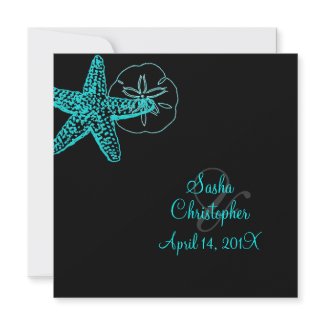 PixDezines Starfish/Beach Wedding Invitations
by
custom_stationery
Browse
Pixdezines Invitations
MY HEART JUST STOPPED
This is actually an invitation someone made themselves from a memory box. It features real shells and sand across the invitation, sort of like a 3D picture. I absolutely love this idea and is a great DIY project.
To give credit where credit is due. This is taken from http://pinkpaislee.wordpress.com/tag/beach-wedding-invitation/
She is my new hero. lol
Sea Shells Wedding Invitation
by
JoinedHearts
Create an invitation online
with zazzle
Don't forget about wedding stamps