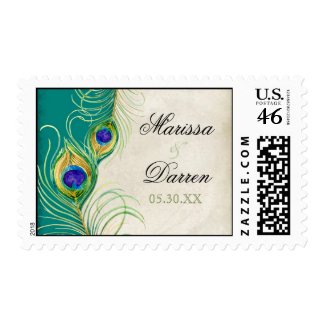 Matching Postage - Peacock Feathers Wedding Love
by
AudreyJeanne
Learn about
ordering postage stamps
at zazzle.com
PEACOCKS STRUT IT OUT ON THE BIG DAY!


Peacock Cake and Cupcake Hybrid


This famous bird has become quite famous in the recent years as the star of the Wedding. It is a beautiful bird with its lustrous and beautiful feathers in shades of turquoise, blue, green, teal and gold. These make for lovely wedding colors. What a bold statement, not only featuring the feathers but the whole bird as well I was first inspired by this hybrid cupcake/wedding cake when I was researching a classy and fabulous way to incorporate cupcakes into wedding receptions.
Cupcakes-The-New-Wedding-Cake
. There are so many creative ways to play with the design of the feathers and even create a more cost effective wedding cake! Lets take a look as more Peacock inspiration shall we....
This beautiful cake truly highlights the details of the feathers and how beautiful they are. Pulling that blue directly into the color of the cake is gorgeous (this blue is one of my absolute favorite colors).
This cake also highlights the peacock feathers, but nods more towards the the traditional wedding cake with its iridescent light gold fondant and pearl beading.
Ivory Peacock Cake
This cake is special. They incorporated the beautiful Peacock bird (flawlessly created by the way) and still kept more the traditional wedding cake colors of Ivory and Pink. This was done by a very skilled baker.
Peacock Dream
I have to say this cake is one of my absolute favorites. It is so whimsical and inspired by the peacock without screaming peacock. It looks like a water color painting and is almost dream like. The colors are so beautiful and its SPARKLY!!! I'm a girl that loves anything that sparkles, twinkles, or shines.
Well I hope you got inspired today, as I did. I'm actually thinking of incorporating Peacocks into my bathroom design... that will be another day and another blog. Remember brides.... stay calm and design...